Marine Animal Emergency
What to do if you find an injured, stranded, or dead marine animal…
If the animal is still alive…
Call the organization responsible in your area! See Emergency Contact List below. Give them the following information:
Your name & telephone number 
Date and time
Identification or description of animal (size, color, etc.)
Number of animals involved
Condition of animal (stranded, injured…)
If there are any tags on the animal
Exact location and directions to find the animal
Weather conditions
Tide details
Accessibility by boat or vehicle
Follow their instructions!
Emergency Guides – What to Do
If you are too far away to get help from an organisation, try to contact a local veterinarian, fire department, or police.
These Emergency Guides can help you take the right action.
Report it if…
…you see someone:
Harassing an animal (Selfie photos!),
Catching, injuring, or killing an animal,
Selling animals (manta rays, turtles, certain species of sharks) or turtle eggs.
Photos or videos of what you saw,
Description of the people, boats, vehicle, or vendors involved,
Contact details of other witnesses,
Any other details.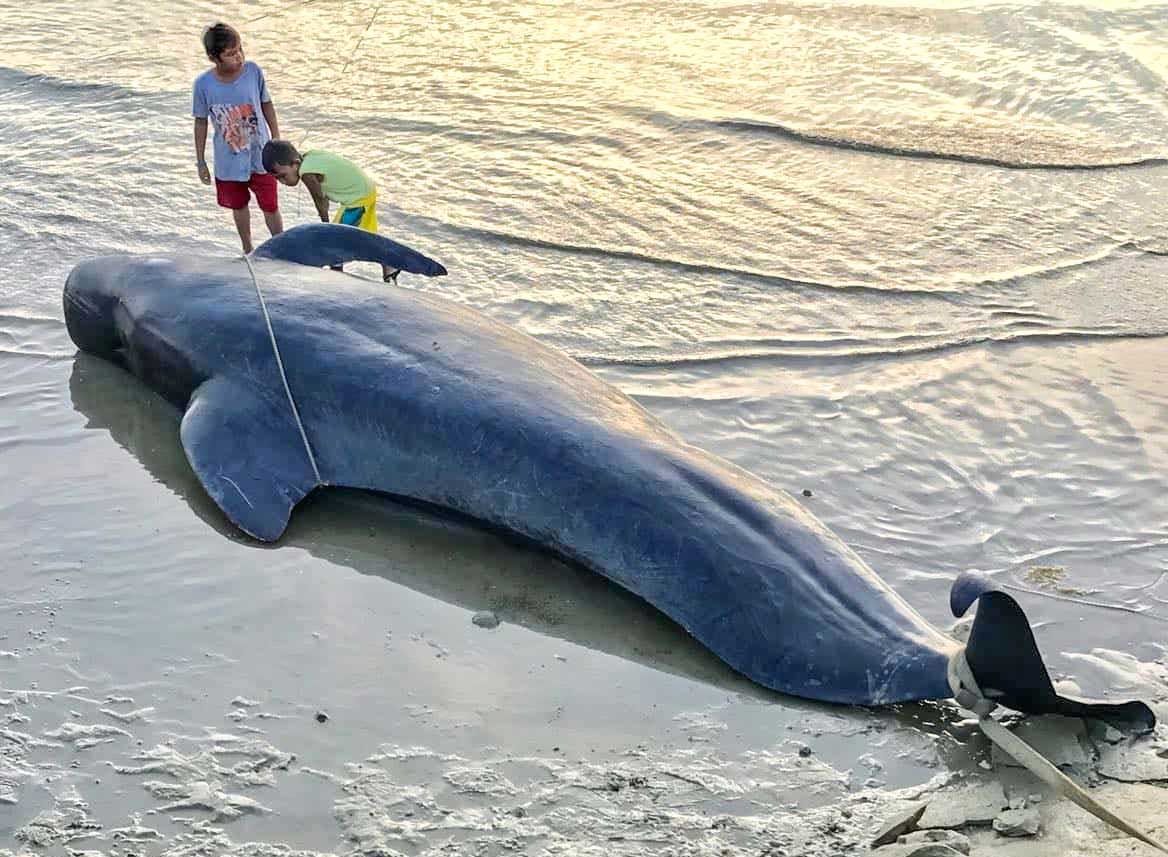 If the animal is dead…
Your information can help save other animals in the future.
Note the basic information
Date & time
Location – precise
Conditions on site (sea, shore, tide, weather)
Number of animals
Species or description
Carcass condition (freshly dead, decomposed, skeleton)
Status of carcass (on site, buried, towed, sunken)
Photos
Left and right side
Top and bottom
Head, dorsal fin, tail, full body
Wounds or injuries
Measurements
Body length
Length of parts of body
Posting on Facebook can also help create awareness.
Agencies & Organizations by Country
Country
Agency / Organization
Telephone
Website
American Samoa
Wildlife Biologist, Department of Marine and Wildlife Resources
+1 684 633 4456
+1 888 256 9840
http://www.fpir.noaa.gov/PRD/prd_marine_mammal_response.html
Israel
Israel Marine Mammal Research & Assistance Center
+972 50 8226280,
+972 50 6241663,
+972 52 3571193
http://immrac.haifa.ac.il/english/introduction.html
Argentina
Fund Mundo Marino
+54 2252 43 0300
http://www.fundmundomarino.com.ar/sumate.php
Australia, New South Wales
ORRCA Whale & Dolphin Rescue (24Hr)
+61 2 9415 3333
http://www.orrca.org.au
Australia, North Territory
Marine Wildwatch
+61 1800 453 941
https://nt.gov.au/environment/environment-data-maps/marine-coastal-biodiversity
Australia, Queensland
RSPCA
+61 1300 264 625
https://www.ehp.qld.gov.au/wildlife/caring-for-wildlife/marine_strandings.html
Australia, South Australia
National Parks & Wildlife Service or FISHWATCH (24 Hr)
+61 1800 065 522
http://www.pir.sa.gov.au/fishing/fishwatch/marine_mammals
Australia, Tasmania
Dept. of Primary Industries, Water & Environment
+61 427 942 537
http://dpipwe.tas.gov.au/wildlife-management/marine-conservation-program/marine-mammal-incident-response
Australia, Victoria
Whale & Dolphin Emergency Hotline
+61 1300 136 017
https://www.wildlife.vic.gov.au/sick-injured-or-orphaned-wildlife/sick-injured-or-orphaned-wildlife
Australia, Victoria
Seals & Marine Turtles - AGL Marine Response Unit
+61 1300 245 678
https://www.wildlife.vic.gov.au/sick-injured-or-orphaned-wildlife/sick-injured-or-orphaned-wildlife
Australia, Western Australia
Wildcare
+61 8 9474 9055
http://www.dpaw.wa.gov.au/management/marine/marine-wildlife/64-whales-and-dolphins
Bonaire
Sea Turtle Conservation
+ 599 780 0433
http://www.bonaireturtles.org/wp/
Canada – Quebec
Quebec Marine Mammal Emergency Response Network
+1 877 722 5346 - 24h
http://www.qc.dfo-mpo.gc.ca/signaler-report/urgence-mam-emergencie-eng.asp
Canada – British Columbia
BC Marine Mammal Response Network
+1 800 465 4336 - 24h
https://www.cetussociety.org/bc_marine_mammal_response_network
Canada – Gulf Region
Coast Guard
+1 800 565 1633
http://www.inter.dfo-mpo.gc.ca/Maritimes/Contact-Us#Emergencies
Canada – Maritimes Region
Marine Animal Response Society
+1 866 567 6277
http://marineanimals.ca/site/
Canada – New Foundland & Labrador
Whale Release & Stranding New Foundland
+1 888 895 3003
http://newfoundlandlabradorwhales.net
Canada – Central & Arctic Regions
Department of Fisheries & Oceans
+1 867 777 7500 Inuvik
+1 867 669 4900 Yellowknife
+1 867 979 8000 Iqaluit
+1 800 667 7561 Saskatchewan
http://www.dfo-mpo.gc.ca/species-especes/mammals-mammiferes/report-rapport/page02-eng.html
Chile
Servicio Nacional de Pesca y Acuicultura
+56 800 320 032 - 24hr
http://www.sernapesca.cl/area-trabajo/rescate-y-conservacion
Commonwealth of the Northern Mariana Islands (CNMI)
Fisheries Biologist, Division of Fish and Wildlife
+1 670 664 6041
+1 888 256 9840
http://www.fpir.noaa.gov/PRD/prd_marine_mammal_response.html
France
L'Observatoire PELAGIS – Réseau National Echouage
+33 5 46 44 99 10 - 24h
http://www.observatoire-pelagis.cnrs.fr/participez/signaler-un-echouage-257/?lang=fr
French Antilles
http://www.sanctuaire-agoa.fr/Les-echouages/Que-faire-en-cas-d-echouage
French Guiana
Reseau National d'Echouage – Kwata
Awala-Yalimapo
+594 5 94 34 84 04,
+594 6 94 20 85 15
L'ensemble du littoral: +594 6 94 44 88 68, +594 6 94 21 74 42
http://www.kwata.net/le-reseau-des-echouages-de-guyane.html
French Polynesia – Moorea
Te mana o te moana
+689 56 40 11,
+689 71 53 44
http://www.temanaotemoana.org/conservation/the-sea-turtles-clinic/
Germany – Friedrichskoog
Seehundstation (Seal Station) Friedrichskoog
+49 4854 13 72
https://seehundstation-friedrichskoog.de/de/
Germany – Norddeich
Seehundstation (Seal Station) Nordedeich
+49 4931 973 330
http://www.seehundstation-norddeich.de/2014/seehundstation/kontakt/
Greece
Archelon Sea Turtle Protection Society
+30 210 8944444
http://www.archelon.gr/eng/pedio_first_aid.php?row=row5
Greece
Hellenic Rescue & Information Network – Monk Seals
+30 210 5222888
https://www.mom.gr/conservation
Guadeloupe
Réseau Tortues Marines
+590 690 74 03 81
+590 590 99 29 04
http://www.tortuesmarinesguadeloupe.org/nous-contacter/le-reseau-tortues-marines-guadeloupe/
Guadeloupe
Marine Mammal Strandings - Association Evasion Tropicale
+590 6 90 57 19 44
+590 5 90 92 74 24
http://www.evasiontropicale.org/echouagedetresse.html
Guam
Fisheries Biologist, NOAA Habitat Conservation Division
+1 671 735 4032
+1 888 256 9840
http://www.fpir.noaa.gov/PRD/prd_marine_mammal_response.html
Indonesia
Send alert on Facebook @WhaleStrandingsIndonesia
+62 821 1177 7492
http://www.whalestrandingindonesia.com/

Country
Agency, Organization
Telephone
Website
Malaysia
MareCet
+60 111 577 6802
http://marecet.org/report-a-stranded-dolphin
Malaysia, Sabah
Turtle Rescue Hotline
+60 13 899 9509
+60 88 435 661
https://www.facebook.com/sabahturtlerescue
Martinique
Sepanmar
+596 6 96 41 13 50
http://sepanmar.org/Contacts-et-Adresses
Mayotte
Réseau d'Echouage Mahorais de MAmmifères mains et de Tortues marines (REMMAT)
+262 6 39 69 41 41
http://oulangananyamba.com/remmat/
Mexico
PROFEPA
+01 800 77 63 372
+52 800 77 63 372 from outside of Mexico
https://www.gob.mx/profepa/
Mexico – Yucatan
Red de Varamientos de Yucatán (REVAY)
+01 800 710 33 70
+01 999 948 36 10
+52 999 948 36 10 from outside of Mexico
http://revay.org/?page_id=45
Namibia
Strandings hotline
+264 81 687 6461
http://www.namibiandolphinproject.org/get-involved/strandings-network/
Namibia
Ministry of Fisheries and Marine Resources
+264 64 410 1000 Swkopmund
+264 63 202 415 Luderitz
http://www.namibiandolphinproject.org/get-involved/strandings-network/
New Caledonia
Operation Cétacés
+687 24 16 34
https://operationcetaces.wordpress.com/echouages/
New Zealand
Depart of Conservation
+64 800 362 468 - 24h
http://www.doc.govt.nz/footer-links/contact-us/
New Zealand
Project Jonah
+64 800 4 94253
http://www.projectjonah.org.nz/Stranded+dolphins++whales/Report+a+Stranding.html
Peru
ORCA Stranding Network
+51 999 389 430
http://www.orca.org.pe
Philippines
Cetaceans – Bureau of Fisheries & Aquatic Resources
+63 2 929 9597
+63 2 292 8074
http://www.bfar.da.gov.ph/contactUS
Philippines
Dugongs – Protected Area & Wildlife Bureau
+63 2 924 6031 or 6035
http://bmb.gov.ph/contactus
Philippines
Marine Wildlife Watch of the Philippines
Report on Facebook @marinewildlifewatchofthephilippines
+63 2 812 3198
http://mwwphilippines.org
Philippines – Palawan
Palawan Council for Sustainable Development
+63 48 434 4235
http://pcsd.gov.ph/contact-us/
Poland
Hel Marine Station
+48 58 6750 836
http://www.hel.univ.gda.pl/info/helmarinestation.htm
Puerto Rico
Departamento de Recursos Naturales y Ambientales
+1 787 999 2200
+1 787 878 7279

http://drna.pr.gov
Puerto Rico
Centro de Conservación de Manatíes
+1 787 400 2782
http://manatipr.org/contactanos/
Réunion
GLOBICE
+262 6 92 65 14 71 - 24h
https://www.globice.org/espace-public/reseau-echouage/alerte-echouage-2/
Saint Martin
Réserve naturelle de Saint-Martin
+590 6 90 38 77 71,
+590 590 290 972
http://reservenaturelle-saint-martin.com/fr/form/nos-contacts
Saint-Barthélemy
Réserve naturelle de Saint-Barthélemy
+590 6 90 31 70 73
https://agencedelenvironnement.fr/portfolio/suivi-mammiferes-marins/
South Africa
SPCA – Mammals, turtles
+27 021 700 4158
+27 021 700 4159
After hours & weekends +27 83 326 1604
https://capespca.co.za/contact-us/
South Africa
SANCCOB – Penguins, seabirds

+27 21 557 6155
After hours & weekends +27 78 638 3731 Cape Town

+27 42 298 0160
After hours & weekends +27 82 890 0207 Cape St. Francis
https://sanccob.co.za/#found
Spain
Conservación y Recuperación de Animales Marinos
+34 93 752 45 81
http://cram.org/clinica-y-rescate/acciones-de-rescate/
St Pierre & Miquelon
SPM Fragîles
+508 41 94 14
Trinidad & Tobago
Trinidad & Tobago Marine Mammal Stranding Network
+1 868 645 3883
+1 868 735 3530
+1 868 391 4745
http://www.ccaro.org/emergency-stranding-response-needed.php
Turkey
AFAG Mediterranean Seal Information & Rescue Network
+90 533 488 5858
http://sadafag.org/en/contact-us/
UK (England, Wales, Scotland)
British Divers Marine Rescue
+44 1825 765546
Out of office hours +44 7787 433412
http://www.bdmlr.org.uk/index.php
Uruguay
SOS Rescate Fauna Marina
+598 94 330 795
https://www.facebook.com/s.o.s.faunamarina/
Uruguay
Turtles – Karumbé Protection Tortugas Marinas
+ 598 98614201 San José
+ 598 9991781 Canelones
+598 6820553 Montevideo
+598 42 24 74 16 Maldonado
+598 99180563 Rocha
http://www.karumbe.org/somos/rehabilitacion?es